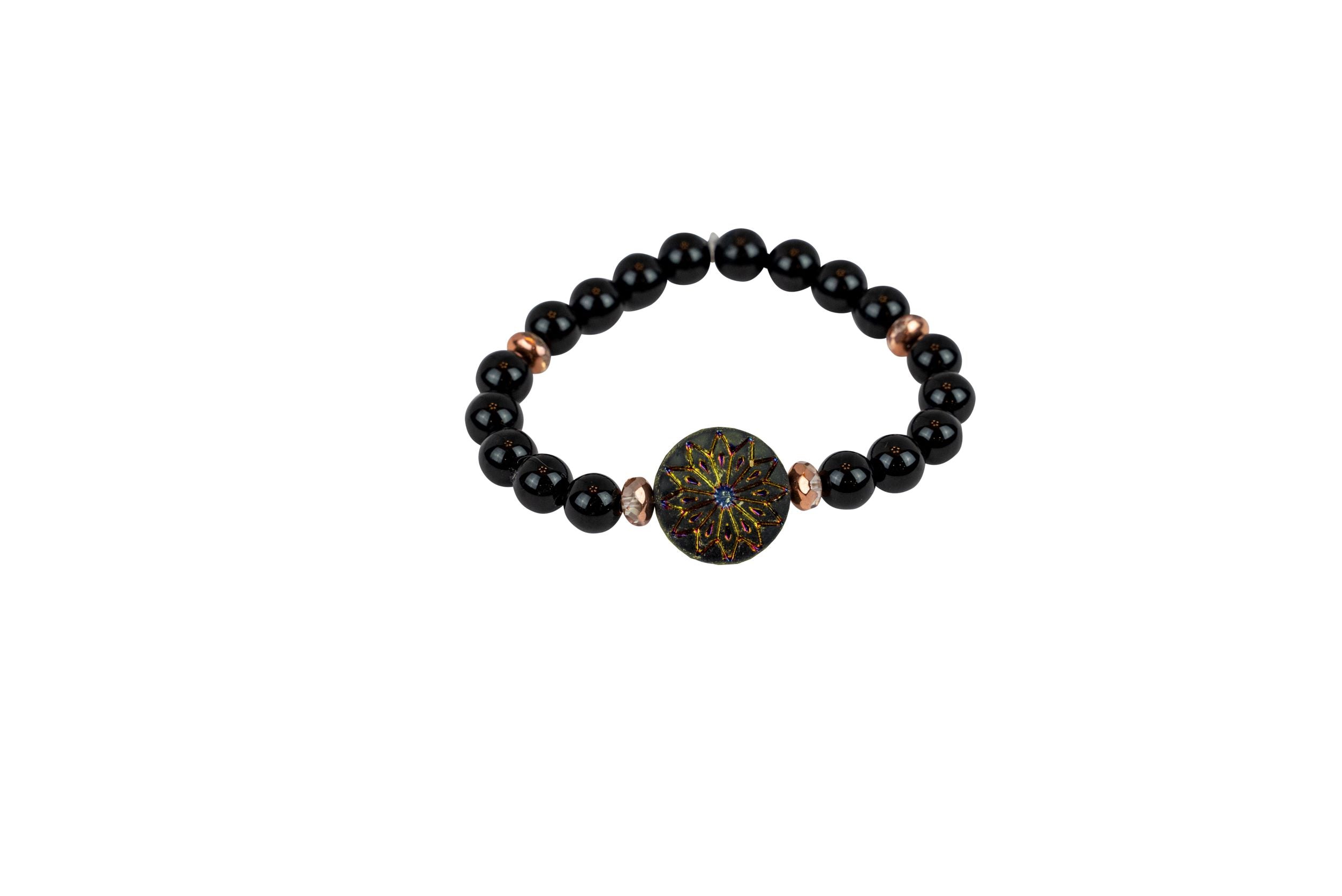 We should really rename this bracelet the "Goddess Badass Witchy Warrior" bracelet because that's how you feel when you wear it! Technically the center bead is a flower which brings beauty and joy into our lives. They symbolize growth and development at many stages of the life cycle. But this particular bracelet gives everyone a lift of energy with it's iridescent sparkle (photo truly doesn't do it justice). You'll feel like your power is turned on and you are unstoppable when you slip this on your wrist!
Onyx helps you to feel stable and strong when you put it on.  Onyx is excellent for protection and grounding, supports stamina and boosts self-confidence.
Handmade with a Czech glass bead center stone, 8 mm round onyx stones and glass accent beads.
Exclusively designed and handcrafted at Sacred Celebrations. Each piece is custom made so there may be slight variations from the image shown.
Made to fit 6.5" wrist. Custom sizes are available upon request.
It's beautiful!
I have several Sacred Celebrations bracelets and all are pretty and versatile. The Onyx Flower is my favorite, beautiful in appearance and meaning! Thank you SO-O-O much!!
I treated one of my best friends to a weekend in Williamsburg (William + Mary is our alma mater) for her 50th birthday. We got massages, pedicures, had Cheese Shop for lunch and visited campus. I gave her a moonstone bracelet as the perfect finishing touch (bought one for myself, too!) and now we both have a reminder of our special weekend together!
I now have six of your bracelets. Each morning, I put them on my dresser, close my eyes and mix them up. Then I ask God which bracelet I should wear today and I pick one! I absolutely love wearing them.
I received the sweetest surprise gift in the mail yesterday from some supportive friends. It brought me close to tears because I could feel how much love and thought they put into their gift that was designed to help get me through a difficult transition. I love your Sacred Celebrations concept. Hand-made with so much love!