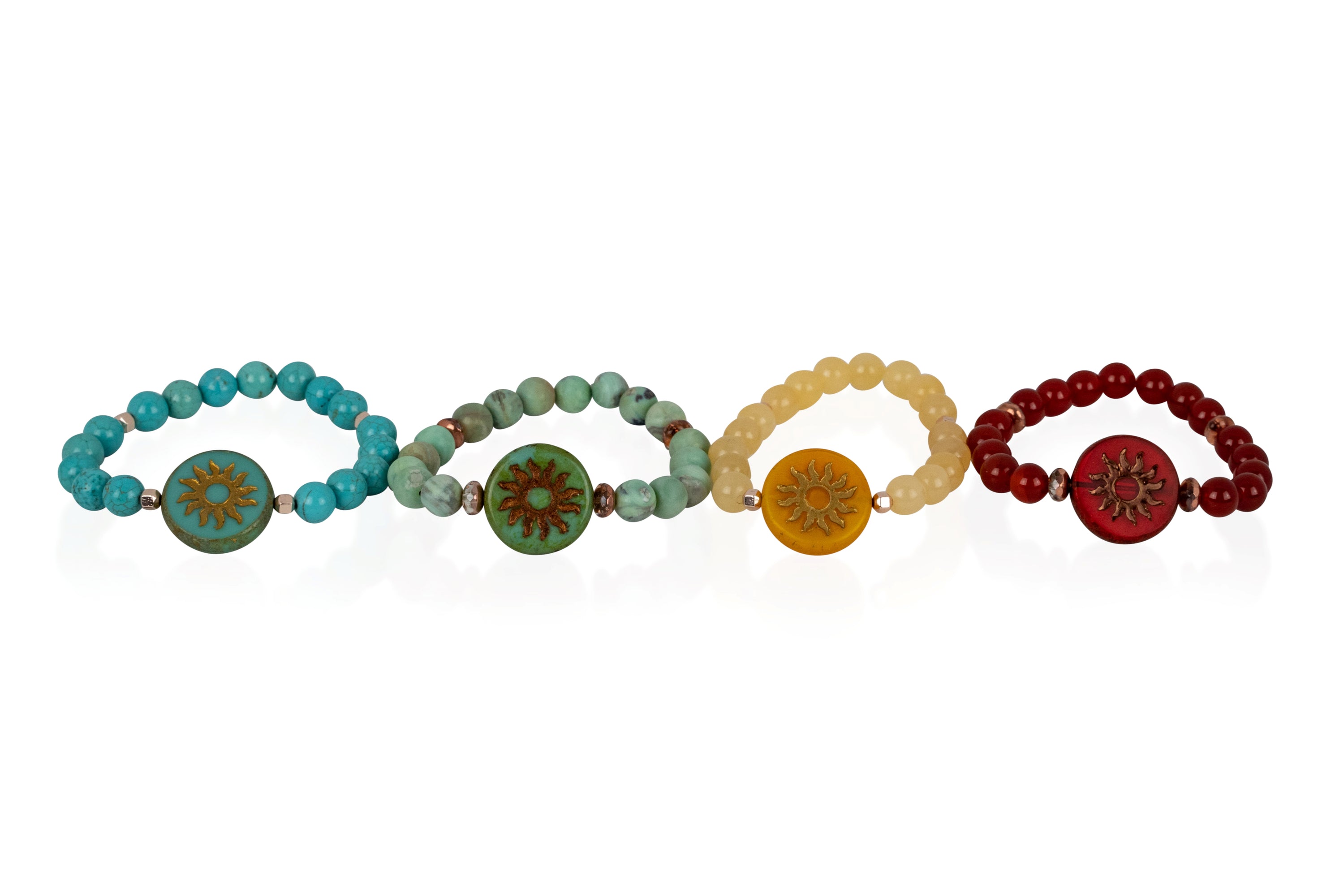 When you wear our sunny turquoise bracelet, you'll immediately feel it's healing powers.  It's an excellent crystal to support communication, it balances all the chakras and it invites serenity and peace. This bracelet simply makes you feel happy to wear it.

The sun represents light, energy and power. It helps us to feel positive and exude confidence. It represents life force energy which is necessary for all of life to grow and thrive. Wear this and feel energized!
Handmade with a Czech glass bead center stone, 8 mm round turquoise stones, and tiny gold accent beads.
Made to fit 6.5" wrist. Custom sizes are available upon request.
*** Note the other styles of sun bracelets that are available on our website as well! Check out the carnelian sun, verde terra agate sun or the yellow calcite sun! ***
I treated one of my best friends to a weekend in Williamsburg (William + Mary is our alma mater) for her 50th birthday. We got massages, pedicures, had Cheese Shop for lunch and visited campus. I gave her a moonstone bracelet as the perfect finishing touch (bought one for myself, too!) and now we both have a reminder of our special weekend together!
I now have six of your bracelets. Each morning, I put them on my dresser, close my eyes and mix them up. Then I ask God which bracelet I should wear today and I pick one! I absolutely love wearing them.
I received the sweetest surprise gift in the mail yesterday from some supportive friends. It brought me close to tears because I could feel how much love and thought they put into their gift that was designed to help get me through a difficult transition. I love your Sacred Celebrations concept. Hand-made with so much love!