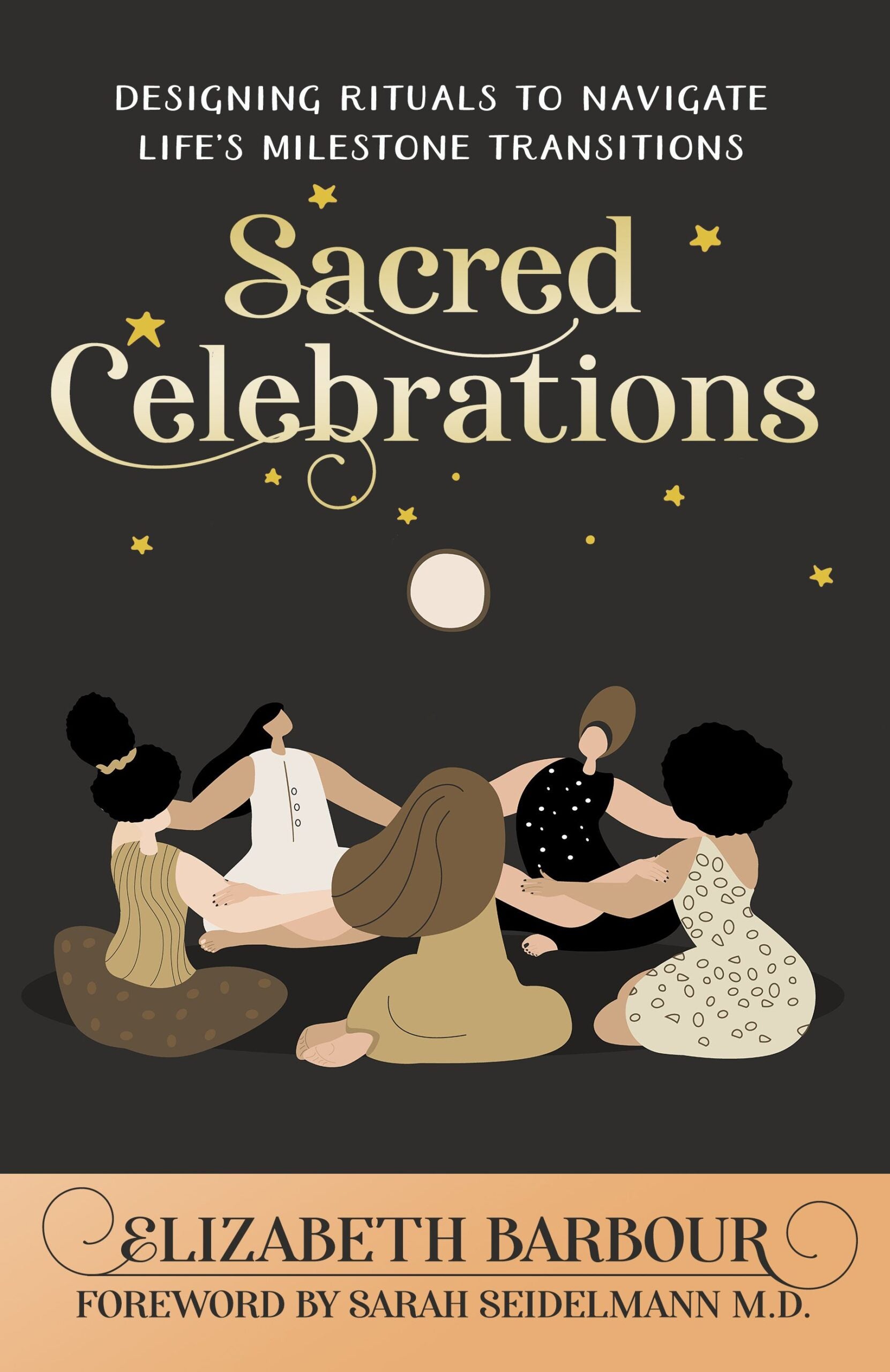 Sacred Celebrations - Designing Rituals to Navigate Life's Milestone Transitions
**Notice** Signature Copy is ONLY available from this site.
Discover the life-changing power of creating meaningful rituals.
Learn how to celebrate and honor life's big transitions - birth, death, marriage, divorce, moves and more - and better navigate the turbulent waters of change with presence, clarity and confidence.
This multifaceted book includes inspirational stories, approachable strategies and easy to access resources all designed to show you how to incorporate ritual into your daily life.
Rituals help you to stay present in the midst of big changes.
We will all face challenges, be confronted by grief and at some point feel overwhelmed by life. It is precisely in these moments that we can learn, grow and evolve into our fuller selves. But only if we intentionally move through them with our whole being and in intentional community. 
Sacred Celebrations explains why rituals are essential for our individual and collective health and well-being and offers useful knowledge for creating your own meaningful and healing rituals.
With empathy and experience from a life filled with celebrated milestones, Elizabeth Barbour has succinctly outlined how to incorporate ritual into your life as you celebrate, honor and commemorate the monumental and the downright mundane.
Take a look at what you'll learn.. 
Navigating transition with intention
Why do we need rituals?
Building community through celebration
Benefits of celebration & why we resist it
The Major Transitions:
Welcoming new life
Birthdays
Coming of age celebrations & education
Marriage
Divorce
Death and loss
Women's transitions
Career and business
Family, parenting and life
Health
Every Day Rituals:
Morning rituals
Smart self-care rituals
Gratitude rituals
Rituals to honor our spiritual allies & ancestors
Evening rituals
It's the perfect gift (along with a bracelet!) for anyone you love who's going through a major life transition!
Sacred Celebrations - Designing Rituals to Navigate Life's Milestone Transitions
I treated one of my best friends to a weekend in Williamsburg (William + Mary is our alma mater) for her 50th birthday. We got massages, pedicures, had Cheese Shop for lunch and visited campus. I gave her a moonstone bracelet as the perfect finishing touch (bought one for myself, too!) and now we both have a reminder of our special weekend together!
I now have six of your bracelets. Each morning, I put them on my dresser, close my eyes and mix them up. Then I ask God which bracelet I should wear today and I pick one! I absolutely love wearing them.
I received the sweetest surprise gift in the mail yesterday from some supportive friends. It brought me close to tears because I could feel how much love and thought they put into their gift that was designed to help get me through a difficult transition. I love your Sacred Celebrations concept. Hand-made with so much love!