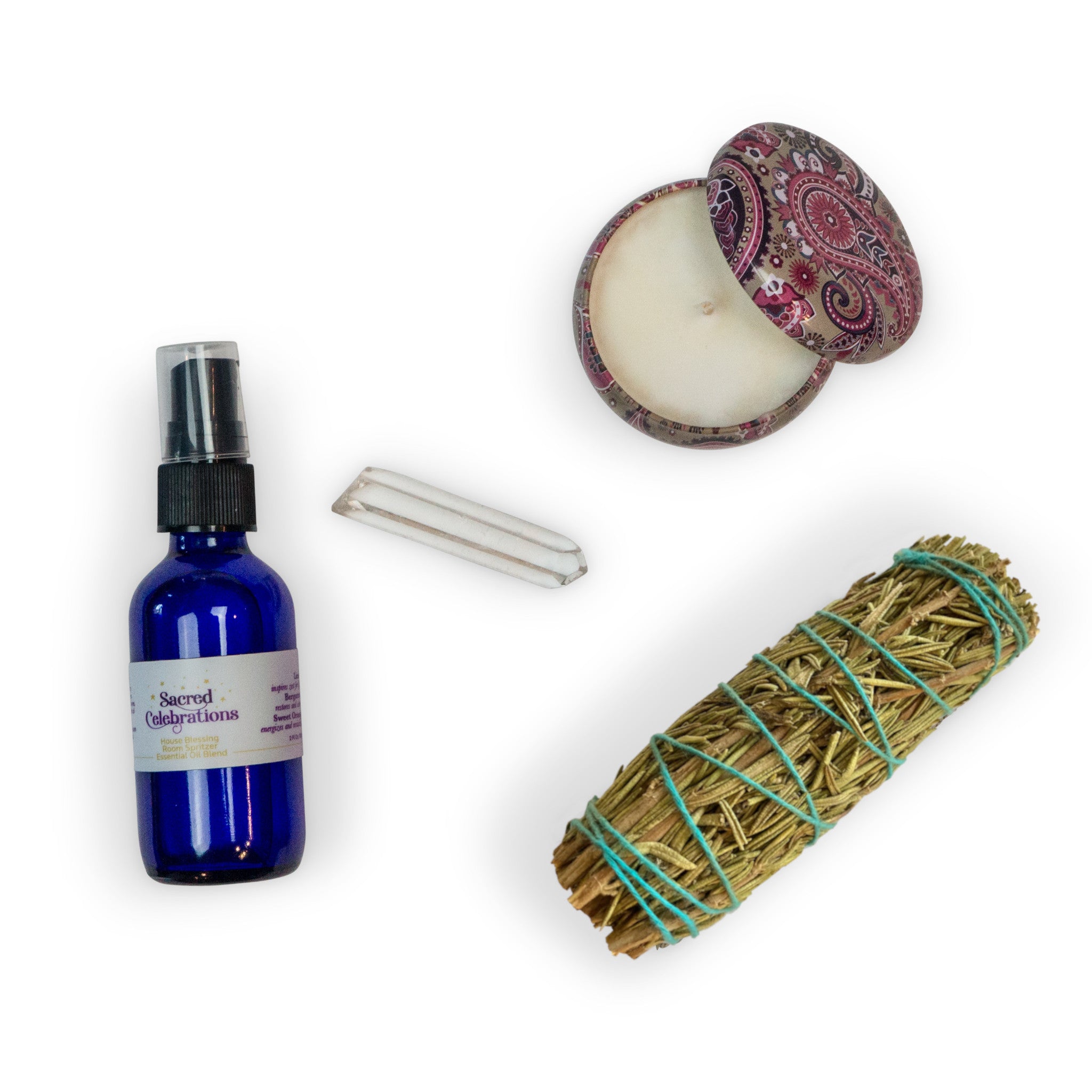 The Sacred Celebrations House Blessing Kit
Filled with hand-selected items, this house blessing kit is designed to bring joy and inspiration to the recipient. The purpose of this ritual kit is to encourage an intentional gathering to help connect the person or people with their dwelling. Building a positive relationship with your home and the land it sits on can bring peace and harmony to all who live there. You'll be guided to do energy clearing, intention setting, create an altar and develop a gratitude practice.
More than a gift box... it's an invitation to create an intentional & memorable experience
People are craving connection more than ever before.
We need more inspirational, intentional, and intimate gatherings to help us feel loved, nurtured, and connected to ourselves, to others, and to the spiritual world.
Items in the Sacred Celebrations House Blessing Kit include:
Candle – Light a warm vanilla handcrafted candle to purify and transform your space and set the stage as you begin your ritual.
Rosemary stick – Burn this bundle of herbs and let the fragrant smoke cleanse your space.
House Blessing Spray – Custom blended citrus spritzer with sustainably sourced essential oils including lime, bergamot, and sweet orange.
Clear Quartz Crystal – You can create a simple altar on a table, a shelf, a bookcase, or a window sill where you place this master healer crystal that will help to amplify the energy of your home.
Invitation to Sacred Celebrations – A welcome letter with helpful tips, suggestions, and ideas to support you in creating a one-of-a-kind ritual that is perfect for you.
When you give this gift to yourself or someone else, you will (or they will) be inspired to...
Design a magical experience through a house blessing ritual

Clear stagnant energy from the home

Begin to build a relationship with the home as a living entity

Create a shared experience through meaningful connections with family and/or friends

Tap into mystical and magical support from the Universe
Makes a great gift for New Year's, celebrating a marriage or honoring a divorce or a housewarming gift for someone who's bought a new house. Who do you know who would appreciate one of these?
The Sacred Celebrations House Blessing Kit
So happy!
I'm so thrilled with sacred celebrations house blessing kit, this is such a thoughtful kit and with the personalized message this makes it so easy for me to give. Thank you so much Elizabeth for making such amazing gift kits! So needed during this time!! 😍😍
I treated one of my best friends to a weekend in Williamsburg (William + Mary is our alma mater) for her 50th birthday. We got massages, pedicures, had Cheese Shop for lunch and visited campus. I gave her a moonstone bracelet as the perfect finishing touch (bought one for myself, too!) and now we both have a reminder of our special weekend together!
I now have six of your bracelets. Each morning, I put them on my dresser, close my eyes and mix them up. Then I ask God which bracelet I should wear today and I pick one! I absolutely love wearing them.
I received the sweetest surprise gift in the mail yesterday from some supportive friends. It brought me close to tears because I could feel how much love and thought they put into their gift that was designed to help get me through a difficult transition. I love your Sacred Celebrations concept. Hand-made with so much love!